Want to boat even if you're among the boatless? Well, if it floats, you can rent it in Lake Havasu City. Ski boats, personal water craft (PWC), houseboats, cabana boats, even flyboards. When it comes right down to it, we've got whatever floats your boat.
As the temperature starts flirting in the triple digits, we got to thinking how an afternoon on the lake would be a great escape from our cubicles. Oh wait. We don't own a boat. Well in Lake Havasu City, that's not much of a problem, especially after we called around to various boat rental services. There's a huge fleet just waiting to be hired!
With no speed or size restrictions for boats, outside of No Wake Zones such as the one in  Bridgewater Channel, anyone is free to explore the many picturesque miles of Lake Havasu and the Colorado River.
Ski Boats
Nothing beats a 21-ft. Larson Open Bow Ski Boat when it comes to power you can rent on the lake, whether for touring or towing a tuber, wakeboarder or skier. Top speed is about 45 mph, thanks to its powerhouse Volvo Penta 5.0 marine engines.
At The Bridge Rentals will gladly send you out on the water in a boat that accommodates six to eight for about $375 per day, plus fuel, insurance, and tax. Top speed is about 45 mph.
For more information: www.atthebridgerentals.com
Personal Watercraft
People call them Jet Skis, but that's actually a registered trademark of Kawasaki. Those speedy one and two-person water sleds are more generally known as personal watercraft or PWC's. But no matter what you call them, they're a great way to tour the lake just a few feet off the water's surface.
Champion Rentals has a fleet of two dozen 1100cc Yamaha and 1300cc Sea-Doo PWC's at your disposal that can travel a zippy 50 to 54 mph. Plus, they are more fuel-efficient, more stable, wider and quieter than the PWC's your father (or mother) may have used years ago. They rent from one to eight hours, at a cost of approximately $75 to $225, plus fuel and tax.
Champion is over 20 years old and is run by a real champion of the sport. Three-time world champion professional Jet Ski racer Jeff Prieur is ready to provide a safety check and map before sending you out on a great adventure.
For more information: www.championrentals.com
Pontoon Boats
Among its fleet, Arizona Watersports offers 24- to 26-ft. pontoon boats you can take from Parker Dam up to Pirate Cove Resort & Marina in Needles.
Rental of the 24-ft. pontoon boat costs about $340 per day plus fuel and tax, including safety instruction, two full bimini shade tops, stereos, ice chest and BBQ grill. You can tube behind it, or consider spending a bit more for the 26-ft. pontoon boat which can pull a water skier, tuber, or wakeboarder. They can accommodate 10 adults, or about $34 per head for a great day on the water.
For more information: www.arizonawatersports.com
Houseboats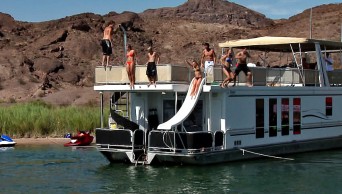 Now for the ultimate lake experience – a luxury houseboat that acts like a floating hotel for you and your family and friends. Nautical WaterSports Center's 60-foot deluxe houseboat can accommodate up to 12 people with four queen size beds and two bathrooms.
The cost is approximately $2,995 to $4,995 depending upon whether you rent the 60- or 80-ft. size (three-day minimum). Fuel, pump-out services and insurance is extra. Amenities include waterslide, wet bar, propane BBQ, and full gallery. No captain is necessary. All you need is to be over age 21 and have a valid driver's license.
For more information: www.lakehavasuhouseboating.com
Cabana Boats
Now here's an idea …. How about a "boat" with no engine? That's certainly one way to save on fuel.
Cabana Boat Rentals will gladly rent you a floating party barge that's tied up in the Bridgewater Channel. It's a floating platform for all sorts of fun, although owner Dallas Finch once counted 63 people on board, so there wasn't much floating going on – it sat on the bottom.
It costs $295 per day, and includes 80 lbs. of ice, a propane BBQ, and a sound system you can operate with your own smartphone – it even charges while it plays. There are tables, chairs, couches, umbrellas, swim decks, and float toys – all included. Floating lily pads and SUP boards are extra.
For more information: www.cabanaboat.com
Hydroflying
Nothing beats a post on Facebook or Instagram than a photo of you hydroflying. You want Likes, we're going to get you Likes.
They look like water jetpacks for your feet and are actually called Flyboards, which is a brand of the sport called hydroflight. A Flyboard rider stands on a board connected by a long hose to a watercraft. Water is forced under pressure to a pair of boots with jet nozzles underneath, providing thrust for the rider to fly up to 50 feet in the air or to dive headlong through the water down to about eight feet.
Water Buzz Flyboarding, which has been teaching Flyboarding for five years, says anyone can get the hang of it within five minutes. Beginners usually hover around four feet and are protected with a personal flotation device and helmet. The cost is $50 for a 10-minute lesson, and a lifetime of cool humblebragging online.
For more information: www.waterbuzzflyboarding.com
Learn more about boat rentals in Lake Havasu City at: